&nbsp ... je bil malo manj spektakularen, kakor sem si predstavljal. No ja, saj me je enkrat pasje stresel kravji pastir, saj sem trikrat spektakularno padel, vmes, ko bi mogel šprintati, hodil (ker enostavno nisem mogel več), pa še teta Dia (una, k se ukvarja z rejo) me je prišla pozdravit.
&nbsp Ne vem točno, kaj sem si predstavljal. Saj že ime panoge razločno pove, kaj to je, mar ne? ORIENTACIJA + TEK = orientacijski tek! How hard is
that
to understand?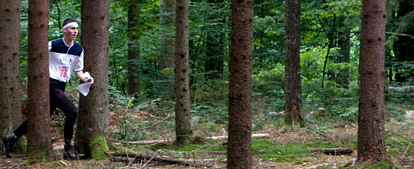 &nbsp No, poleg
očitnega
pomanjkanja kondicije, je bilo seveda prisotnih kar nekaj orientacijskih napak. Ampak sva bila z L**** vseeno zadovoljna - našla sva vse (če nimaš vseh KT-jev (KT=kontrolna točka), si avtomatsko izločen), on je bil celo četrti (od štirih), jaz pa sem tekmoval v kategoriji s tistimi, ki sem jih do sedaj vedno imel za polbogove orientacije, guruje, ki učijo in osvetljujejo pota nam nevednim in ne tako veščim orientacijskih veščin.
&nbsp Pa zaradi mokrote in čevlja in moje neumne kože na nogah sem dobil nekakšne vodne otiščance. Pa še ... ne, to je pa to;)
All in all: ZAKON!
KDAJ JE
NASLEDNJA TEKMA?!!! :)